2GP Portable Pneumatic Inject Pump
Description
2GP series pneumatic grout pumps are driven by compressed air, thus this pump can safely use in the large water drenching and high gas/firedamp places. It can be blocked for a long time and has no heating problem. This pump transmits pressure signals by working medium (slurry and compressed air) to form closed-loop automatic control function, therefore the pump is simple in structure, can regulate timely and accurately, and has no overpressure problem. The shift device of this pump has feature with air pressure automatic location, thus this pump works with safety and reliability. This pump has the function of automatic regulating output according to the pre-seted grouting final pressure. The pump can grout simple-liquid, dual-liquid and chemical grout.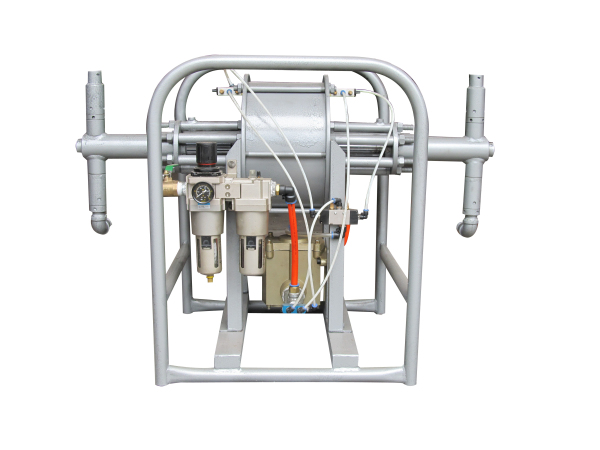 Features
1.ISO 9001-2008&CE
2.Driven by compressed air
3.Shift device has feature with air pressure automatic location.
4.Can grout cement slurry.
5.Can be used in the workplaces of inflammable, explosive and humidity changes greatly.
Technical data sheet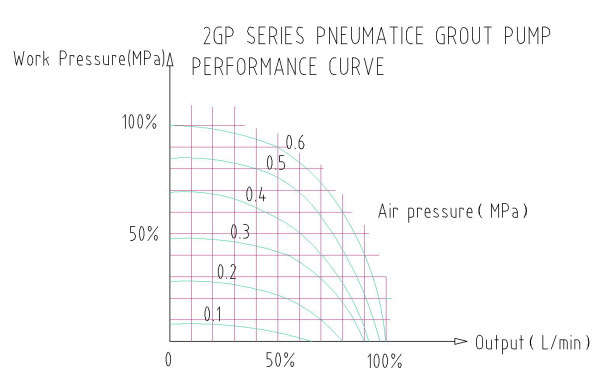 Technical Sheet

0.5m³ ,0.7m³(portable)

air consumption (m³/min)

air pressure (MPa)

overall dimension(m)

weight (kg)

Slurry and Sodium silicate ratio

0.5

0.2~0.63

0.6x0.3x0.4

18

1:01

0.7

0.8x0.4x0.7

41

1:1~1:0.75

Accessories

Suction hose, filter, delivery hose, junction device, tools, sealing parts bit. Optional: thickness slurry hopper, hole plug, mixture ratio regulator, baume gauge.

air consumption (m³/min)

Model

output(L/min)

pressure(MPa)

0.5m³(portable)

2GP10/5

10

5

0.7m³(portable)

2GP50/4

50

4

2GP24/10

24

10
Applications
2GP series pneumatic grouting pump is used in ore mining,tunnel,bam,construction and bridge to grout slurry,renovate roadbed of highway and railway, ruled out hidden troubles.