Grout cement mixer for construction of cut off walls provides efficient and profitable mixing for owners. Materials such as cement, water, bentonite and additives are drawn from the high speed impeller pump and the pump spins at 1500 rpm to prevent agglomeration and ensure complete wetting. Mixing time is only 2-3 minutes, saving time cost. The grout cement mixer for construction of cut off walls increase the apparent fluidity of the slurry mixture by 20% over paddle mixers, providing significant benefits for dams, rocks, soil grouts and more.
We sell a variety of grout cement mixer for construction of cut off walls and have extensive experience in using and precautions for grout cement mixers.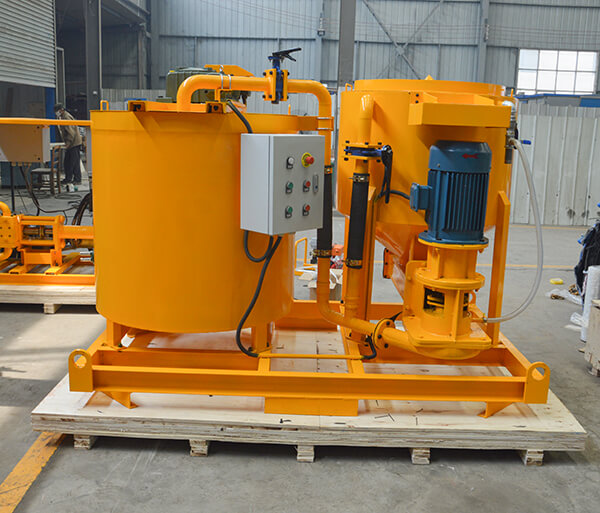 Instructions for using grout cement mixer for construction of cut off walls:
1. Check and fix the mixing impeller and make sure there are no leaks in the slurry pipe.
2. Add an appropriate amount of water, activate the equipment for cleaning and moistening the pulping barrel and pipeline, and drain the water to the pulping machine after cleaning.
Add 3, 80 kg or more of water, start the pulp making machine, add the powder evenly in the specified order, control the supply time within 5-6 minutes, after all the powder has been added 3 ~ Continue stirring for 5 minutes.
4. Carry the prepared slurry to the slurry storage barrel to maintain dynamic slurry storage.
5. Start grouting after connecting the grout machine pipe to the slurry storage barrel or transporting it directly to the grout machine hopper.
6. Immediately after injecting grout, clean the equipment and pipeline and start the pulper so that the cement slurry remaining in the pulper and pipeline can be recycled.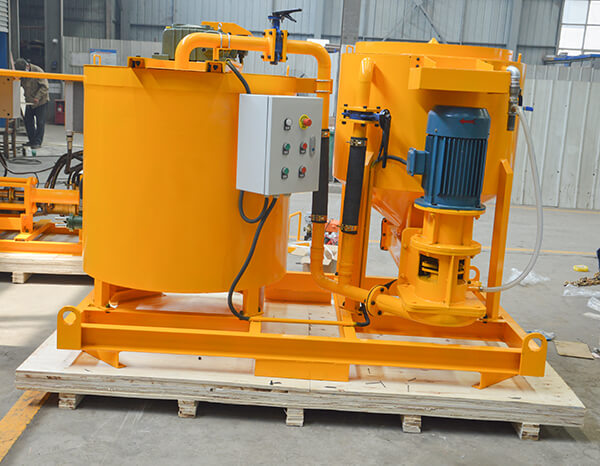 Maintenance of grout cement mixer for construction of cut off walls:
1. Before starting the machine, make sure that the moving parts are not clogged by hand and that the connections are fixed everywhere. Then you can turn on the machine and idle. Watch for other anomalies in the equipment during operation (continue to add water to the transmission assembly for cooling during operation) so that the motor rotates clockwise when viewed from the transmission assembly connection shaft. Pay particular attention.
2.3 Regularly check that base grease has been added to the transmission assembly.
3. Avoid prolonged idle operation of the circulation pump and keep large hard particles and easy-to-roll ribbons out of the circulation pump.
4. When cleaning the grout cement mixer, the valves at the bottom of the pulp barrel and the bottom of the circulation pump should be opened to completely drain the residual cement slurry so that hardening does not affect the efficiency of the equipment.
5. Regularly adjust the tightness of the packing seal of the pump unit. It is recommended to drip a small amount of water from the packing box. Excessive compression affects the service life of the packing and the efficiency of the equipment.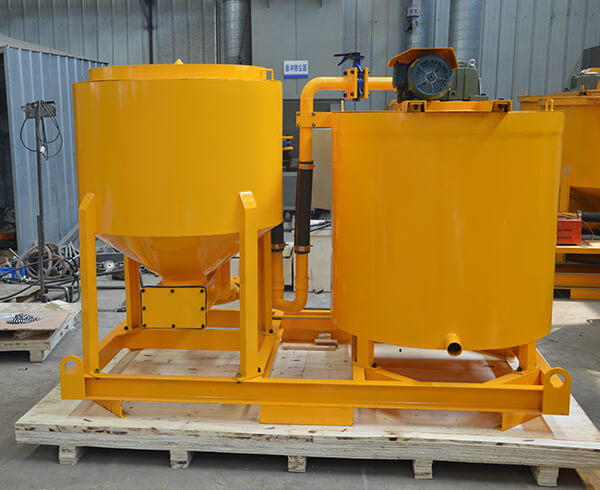 If you would like to know the price of grout cement mixer for construction of cut off walls, please feel free to contact us.Email: sales@wodetec.com
Grout cement mixer for construction of cut off walls