Grouting mixer machine in Nepal is an indispensable machine for grouting engineering, suitable for water and cement, non-shrinking cement, bentonite and other additives in water injection engineering. The Grouting mixer machine quickly mixes water, cement, bentonite, sand and other additives. Compared with ordinary blade mixers, it has the advantages of high pulping efficiency, simple operation, uniform slurry, and high-speed grouting mixer for short distance transportation. Therefore, cement slurry mixers are very popular in various countries, especially in Nepal. Nepal is a long-term partner of Gaodetec. We supply a large number of grouting mixer machines to Nepal every year.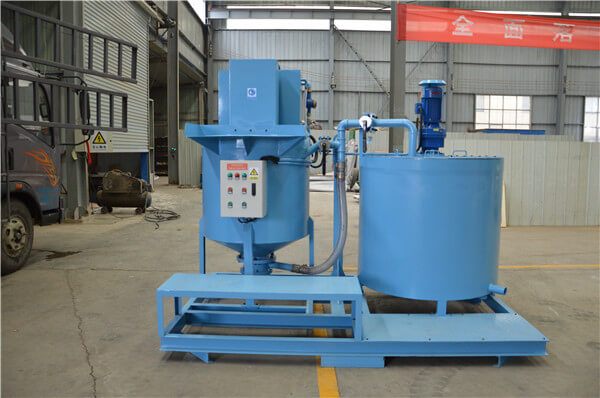 We can produce efficient grouting mixer machines with a variety of grouting capabilities. Standard cement slurry mixers have capacities of 100L, 200L, 300L, 400L, 500L, 800L and 850L. The capacity of the mixing tank can also be customized. As for power, electric motors and diesel engines can be used. Nepal grouting mixer machine is a new efficient grouting mixer machine customized for Nepal customers. The Nepal grouting mixer machine group is composed of a high-speed pulping system and an anti-settling mixing storage system. It is placed on a high-strength base and can also be disassembled and placed. The combination of high-speed pulping buckets and storage buckets can continuously provide slurry use, effectively improving work efficiency.
During the operation of Nepal grouting mixer machine, cement and water are added into the pulp barrel in proportion. The materials in the barrel are uniformly mixed at high speed under the action of the pulp pump. The prepared slurry flows into the storage barrel through the valve. The storage cylinder is equipped with stirring paddles to avoid slurry precipitation. Nepal grouting mixer machine can be used to mix and prepare similar grouts that require strong mixing in advance. It is used with the grouting machine for pressure grouting construction of railway road construction, mining, hydropower engineering, heat insulation and waterproofing, and construction foundation pouring. Nepal grouting mixer machine can easily mix pure cement, fly ash, bentonite, ultra-fine cement and post tensioned cement slurry, easy to operate and maintain, and produce stable homogeneous slurry.
Grouting mixer machine available in Nepal