Backfilling pipeline grouting is grouting on the back of the concrete lining or the periphery of the backfilled concrete, where the concrete cannot be poured and left gaps. Grouting can combine the primary and secondary concrete bodies as a whole, and can also strengthen the soil and backfill the voids to resist external forces and prevent leakage, so it is called backfill grouting. The purpose of backfill grouting is to fill the gaps at the top of the tunnel concrete lining or the branch plug. Backfill grouting shall be carried out as soon as possible after the lining concrete reaches 70% of the design strength.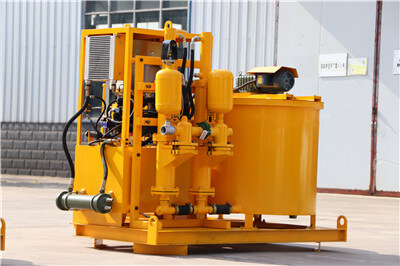 GGP400/700/80DPL-E Grout injection station for sale is mainly used to be made bentonite slurry, cement slurry, etc., in the application highway, railway, hydropower, construction, mining and other ground and underground construction.
GGP400/700/80DPL-E Grout injection station for sale including the grout mixer, grout agitator and grout pump in one base frame, so as called injection station or grout station are also provided.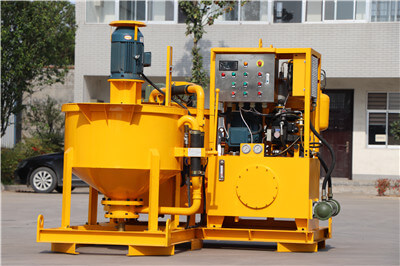 GGP400/700/80DPL-E Grout injection station is designed with quality, productivity and easy operate in mind. Our company with the ISO certificate, SGS report. Each grout mixing tank and pump for sale is inspected and tested for the highest level of quality . The WGP series grout station for sale for sale are also available in different tank sizes, and different pump capacity and pressure, also the machine power.
High speed vortex mixer ensures mix quickly and evenly. Water, cement or bentonite is quickly mixed into homogeneous slurry. Then the mixed slurry is delivered to the agitator. Grout pump injects from the mixing drum (storage tank). This ensures a continuous mixing and grouting operations. What's more, the double-cylinder pump together with the pressure-holding system is used, so that the pump automatically stops and maintains the very little pressure impulse (1-4bar with 50bar grouting pressure) to ensure that the grouting hole is completely filled. The grouting plant is hydraulic drive with electric motor. Grouting pressure and displacement is adjustable.
1. Double plunger pump.
2. Up to 5mm particle size.
3. Pressure holding system.
4. Low flow pressure surge system.
5. Grout inject station has high-speed colloidal grout mixer.
Gaodetec has many years of experience in customizing machinery for customers, and we will meet any requirements of your project for grout mixer and pump. If you have any questions or requirements about our cement grouting pump, please contact us in time.
Grout plant for duct relining cavity filling