High pressure grout plant for foundation repair consists of a high shear high speed grout mixer, a low speed mixing stirrer and a corresponding grout pump. Mixer and mixing plant for colloidal mixing of slurries. Pumps and handling systems for the supply and injection of cement fluids.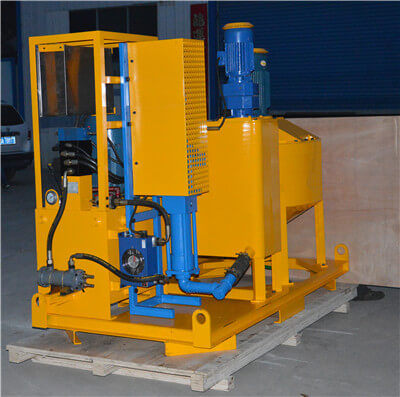 GGP300 / 300/75 PI-E high pressure grout plant for foundation repair is a combination of a mixer, stirrer and grout pump in one plant. Mainly used for highways, railroads, hydropower, construction, mining and other above-ground and underground construction. The high speed vortex mixer ensures quick and uniform mixing. Water, cement and other media are quickly mixed into a uniform slurry. The mixed slurry was then sent to the stirrer. The grout pump injects from the mixing drum (storage tank). This ensures continuous mixing and grout injection operations. The grout pump is hydraulically driven. Grout pressure and displacement can be adjusted steplessly. Compact size and easy to operate. It also occupies a small space.
Features of high pressure grout plant for foundation repair:
1. Hydraulic reversing and hydraulic drive for vertical grout pumps.
2. Grout pressure and output can be adjusted steplessly.
3. Use a rectangular stirrer to make the plant a compact structure, small size.
4. By rotating the ball valve switch, at high speed and low speed.
5. It has a function to record and display the round-trip time of the grout pump by the counter.
6. High-speed vortex mixer allows quick and uniform mixing.
7. Mixer and agitator switch with squeeze handle, safety, reliability, operability
8. The motor has an overload protection function. Oil temperature overheat protection Flood control system with underground grout plant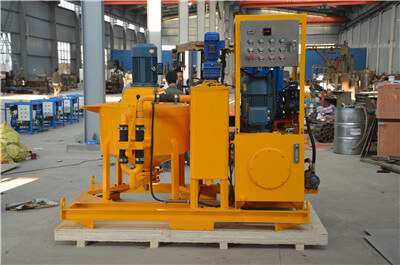 The grout plant for foundation repair are suitable for all grout applications such as cement and ultrafine cement, bentonite suspensions for micro tunneling, pipe jacks and directional drilling. It is ergonomic and space-saving. Some grout plants for tunnel lining allow components to be easily removed from the unit and used individually.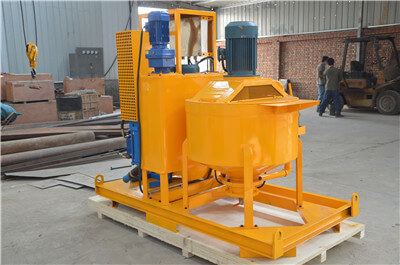 Gaodetec equipment customers ordering tunnel-lining grout plants secure their benefits in the following ways: Individual cost-effective system configuration. Competent advice and high flexibility. High quality, user-friendly product with little wear, low maintenance cost
With the entire tunnel lining process in mind, our products and services regarding grout planning for tunnel projects, including grout mixers and stirrers, grout pumps and grout stations. Gaodetec Equipment manages the project in partnership, from the initial concept to the commissioning of the plant. It is also possible to train operator personnel.
High pressure grout plant for foundation repair